I am what many people would call an "early adopter."
I have always had a passion for new electronic devices… And I love cars.
As a teenager, you could often find me in my driveway fixing up a broken car. From changing spark plugs to refitting a new transmission, my skills were pretty handy back then.
Eventually, I settled down and got married, I had five wonderful children, and my passion for gadgets and cars was put aside for schools and family size SUVs. It wasn't until after my kids moved out that I found myself in a position to "treat myself" to a fun new car – my first one in years.
The decision was easy: What could be more fun for a techie like me than a car made by Tesla (Nasdaq: TSLA)? The Model S I test drove had all sorts of cool technological gadgetry and was a blast to drive – kind of like an iPad on wheels. And a fast one at that…
So I bought a shiny, silver Tesla Model S 100D in California and drove it across the country to my home in New York.
What a marvelous trip! With no real plans, I just woke up every morning, looked at the map, and decided where to drive that day. Tesla's navigation system found spots along the way to charge the car's battery when it was low.
I developed a special bond with my Tesla. The music system adapted to my eclectic tastes. I had no issues with the car or the charging network as I drove from sea to shining sea. All in all, it was a wonderful experience.
Naturally, this experience made me consider buying shares of Tesla. So I started researching the company. Was it worth investing in?
The backdrop looked promising. Tesla had grown from a niche maker of small sports cars to a legitimate manufacturer that built 350,000 cars last year. The company is run by the visionary and wildly entertaining entrepreneur Elon Musk, a tireless cheerleader for the company and electric vehicles ("EVs"). As you can see in this chart, revenue growth has been astonishing…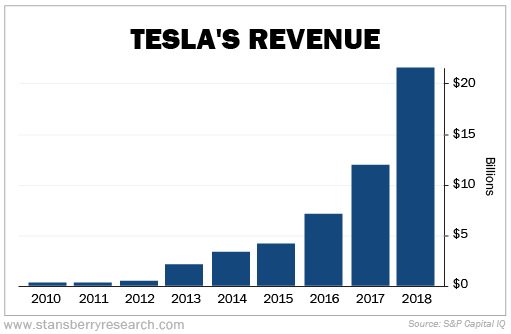 But the more I dug into the details, the more concerned I became – to the point where I can confidently say that in my 30-plus years on Wall Street, I have never seen a company with so many landmines that could blow up at any time.
As such, I have concluded that Tesla's stock is the most dangerous in America.
The biggest problem is that the demand for Tesla's cars appears to be falling off a cliff. The company currently sells three models: the Model S luxury sedan, the Model X full-size luxury SUV, and the smaller Model 3 sedan. The S and X models have been around for some time and are starting to age. The more affordable Model 3, which Tesla began delivering last year, was supposed to pick up the slack. Indeed, pent-up demand (the company started taking reservations for it two years ago) combined with only selling higher-priced, higher-margin variations of the car led to big sales and profits in the third and fourth quarters of 2018.
But now that Tesla has mostly taken care of its backlog, demand appears to have plunged…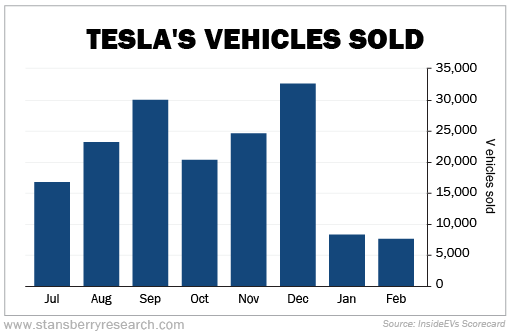 Another indicator of waning demand is rising inventory. While Tesla supposedly builds every car to order, in reality, to keep its production lines running, the company has been building up its inventory. This is what most companies do, of course – but the key question is: Can it sell what it's producing? If not, inventory can become bloated and stale, which can lead to big write-offs.
There are many reasons to believe that this is what's happening to Tesla. (TslaQ.org has dozens of pictures of parking lots full of unsold Teslas.)
So what do most companies with excess inventory do? Slash prices to move it, even at low or negative margins. Sure enough, Tesla recently reduced prices substantially across the board, ramped up sales in Europe and China, and announced its long-promised low-end $35,000 Model 3. While lower prices will no doubt stimulate some incremental demand, will that be enough to absorb the inventory and excess production? And what will this do to margins and profits? (Likely crush them, I expect.)
Tesla recently introduced a small SUV called the Model Y. Normally, Tesla's launch events generate a lot of buzz… But this one was so completely botched that it shook the confidence of Tesla's customers and investors. Musk rambled aimlessly and made lewd, cringeworthy jokes. When the new car was finally unveiled, almost as an afterthought, it appeared to be a doctored Model 3.
This rushed event led me to believe that the company may be trying to collect some much-needed cash by taking reservation deposits of $2,500 per car. This trick worked well two years ago, when Tesla pocketed $500 million of deposits on the Model 3, but I don't think the response will be anything close to that for the Model Y.
This and other missteps – like the quality issues that led review magazine Consumer Reports to remove the Model 3 from its recommended list, or whiplash decisions like when the company announced the closure of all retail stores and then quickly reversed this rash move – have likely tarnished Tesla's most valuable asset… its brand.
Tesla deserves credit for almost singlehandedly forcing every major auto manufacturer to invest heavily in developing electric vehicles… But now, the company is about to reap what it sowed as a tsunami of competition bears down on it. Competitors' cars have many advantages over Tesla's models, including better service networks, luxurious interiors, and the "newness" factor. The Audi e-tron, Porsche Taycan, and Jaguar I-PACE – all of which will be available shortly – represent the biggest threats, followed by highly anticipated offerings from BMW, Mercedes, and others.
Another major risk factor is that Tesla appears to be engaging in extremely aggressive accounting practices, including under-reserving for warranties, undisclosed sales to third-party resellers, and a mad scramble to deliver cars at the end of each quarter.
A particularly worrisome red flag that has appeared is the gap between the number of cars Tesla claims to have sold versus the number that have been registered. While the analysis is somewhat complicated due to the number of different sources, it appears that Tesla has reported selling approximately 10,000 more Model 3s than what's shown in the registration data compiled by the National Motor Vehicle Title Information System. (My guess is that the company is so disorganized that it's not registering cars in a timely fashion.)
Such internal chaos would be consistent with my experience with the second Tesla I purchased…
Last September, I sold my Model S to purchase a souped-up Model 3 – the performance version with breathtaking acceleration. I was excited when I first received my new car. But after a short while, I began to miss the features and roominess of the Model S. And then Tesla cut its prices on the Model 3, which made me feel like a chump for having paid a higher price. So I called Tesla and said I wanted to sell my new car back to them. To my surprise, the company let me.
As it turns out, I still have the app on my phone that allows me to track my old car's location, so I was curious to see what Tesla did with it. The answer: Not much. The company immediately moved it to a used-car facility where it has been sitting in an open lot ever since, all winter. The battery has long since drained to zero. It just sits there, losing value every month.
Something isn't right here. Why isn't Tesla selling it? Is it even trying? Why isn't the company periodically charging it to keep it in good enough shape to sell at some point? How is it accounting for this car? Has it taken a write-down? How many more cars are there like mine?
Another risk factor is the mass of litigation surrounding Tesla. Most important is that the U.S. Securities and Exchange Commission ("SEC") is asking a court to hold Musk in contempt for violating an earlier agreement related to his bogus tweet about a $420-per-share buyout offer from last August. In addition, Tesla is facing numerous lawsuits involving crashed cars, embezzlement, whistleblowers, labor relations, and the acquisition of SolarCity.
Plus, the senior-management turnover at Tesla has been unlike anything I've ever seen in my long career. Nearly 90 senior executives have left the company since January 2018. And the departures appear to be concentrated in the financial and legal areas… exactly where you'd expect if overly aggressive accounting was taking place. For example, the CFO quit unexpectedly a few months ago. The company's general counsel left after only two months on the job. And last September, the Chief Accounting Officer quit after a mere 20 days!
Lastly, the company is almost totally dependent on Musk. He is a tireless visionary and entrepreneur, but he may be cracking under the pressure. He's increasingly behaving like an erratic, narcissistic brat. How insane is it for him to taunt the SEC by tweeting that its initials stand for the "shortseller enrichment commission" and saying on 60 Minutes that he doesn't respect it? These examples are only the tip of the iceberg when it comes to Musk's unpredictable behavior.
There's no question that, as the CEO of several other companies including SpaceX, Musk is distracted. He also may be under significant financial pressure, as he recently mortgaged five of his homes in California and did a leaseback of his prized jet. It is well-known that he has borrowed significantly against his Tesla stock, which places him at risk of a margin call.
Many companies have plenty of red flags. But in almost all cases, the stock price reflects these risks.
But not Tesla's, which is extremely expensive and priced for perfection – primarily, I believe, because many investors have fallen in love with the story and aren't paying enough attention to the fundamentals. At around $280, the company has a $50 billion market cap, greater than Ford and almost as much as General Motors. This is despite revenues one-eighth the size of these competitors. And on top of its market cap, Tesla carries about $12 billion of debt.
Normally, an investor can determine whether a company's market cap is reasonable by comparing it with earnings. But as you can see, Tesla has never had any…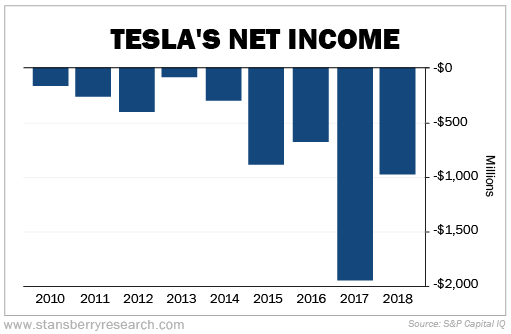 Using consensus analyst estimates of $5.15 in per-share earnings this year (which I highly doubt Tesla will achieve), the stock trades at 54 times this number. That's a huge premium to other major automakers, which are currently trading at six to seven times this year's earnings estimates.
These kinds of companies trade at low multiples for a good reason: It is a cyclical industry with massive capital requirements and low margins. At its core, it's simply not a good business.
Tesla's balance sheet is a mess. Long-term debt and capital leases exceeded $10 billion at year-end. This is a staggering load for a company that has never turned an annual profit. While the company appeared to have a decent cash buffer of $3.7 billion at the end of 2018, it looks like Tesla may have artificially inflated this number to impress investors. It's easy to see that the average cash balance during the quarter must have been far lower because of the negligible interest income the company earned.
Since the end of 2018, Tesla has paid a $920 million debt maturity and projected an operating loss in the first quarter of this year, which will consume more cash. In addition, $793 million of the cash balance is made up of customer deposits, which should be segregated and not used for general corporate purposes (though Tesla is doing this). In total, my estimate of Tesla's true normalized cash balance is closer to $1 billion.
It's clear that Tesla shareholders don't realize it's the most dangerous stock in America. It's priced for perfection with a huge market cap, despite numerous risks – any one of which could blow up the stock… and your portfolio along with it.