Sometimes, success can be your worst enemy…
On October 5, 1999, I wrote a friend to share a promising stock idea. I explained that the business had top-notch customer service, a great brand, and excellent management. Plus, it was growing fast. That company was Amazon (Nasdaq: AMZN).
I bought the stock around $50 a share, expecting to own it for the long haul. In about seven months, the stock had skyrocketed to more than $100 per share. I felt great about my investment… But I was also growing cautious about the looming tech bubble that I thought was bound to burst. So I sold my entire position on March 9, 2000 – one day before the Nasdaq peaked.
For a while, I felt like a genius. Amazon shares went on to fall more than 90% over the next 18 months, and I had saved my investors from the worst bear market of our generation. But it turns out, I had actually made a huge mistake… Had I simply held my shares, I'd be up 2,750% on my position.
With shares up nearly 100,000% since going public back in 1997 (when factoring in subsequent stock splits through the years), you might think it's too late to buy the stock today. But you'd be wrong. You see, it all starts with the "S Curve"…
What's an S-Curve?
In 1957, Ohio State professor Everett Rogers researched the adoption of new agricultural technologies among Ohio farmers. His findings led him to develop a general theory that describes the way new ideas are adopted.
Rogers proposed that adopters of a new innovation resemble a normal distribution (or a "bell curve"). First a small, adventurous group ("innovators") experiments with the new idea. Then, a larger group ("early adopters") follows, providing the necessary momentum for the idea to become more popular. If maintained, the momentum leads to the masses – the early and late majority – to adopt it. As you can see in the following graphic, the cumulative adoption curve looks like an "S" – hence why it's called the S-Curve.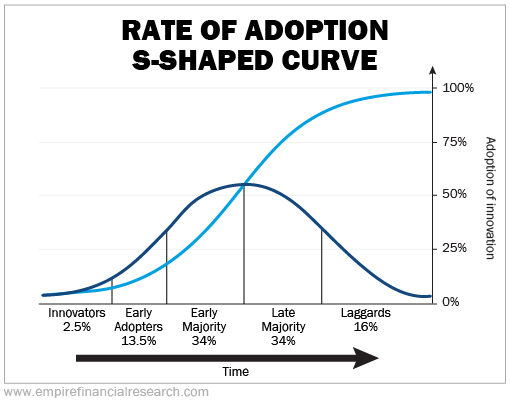 What does that have to do with Amazon? Well, we all know Amazon is an e-commerce giant. After all, the company grew its retail sales 25% last year alone to $183 billion. But what you might not realize is that thousands of small companies rely on Amazon to sell their products. They use Amazon Marketplace to access customers, accept payments, and even ship items.
As such, Amazon accounts for more than half of all U.S. online retail sales. But of the $6 trillion that American consumers spent on goods and services last year, just $514 billion of that came from online purchases. In other words, with only 14% of all shopping done online, e-commerce penetration is still in the early stages of the S-Curve…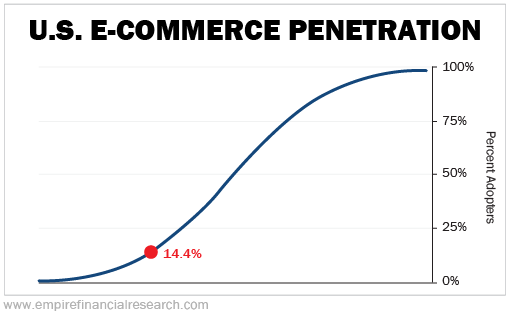 When Amazon introduced Amazon Prime in 2005, it changed the world of online shopping forever. The annual membership offered free two-day shipping on most purchases. It built strong customer loyalty… But more importantly, it changed consumer behavior. According to market-research firm Consumer Intelligence Research Partners, Prime members spend $1,400 a year, compared to just $600 for non-members.
Prime has become the gold standard for online retail. More than 100 million Prime members pay Amazon $119 a year to use its service, which has expanded to include Prime Video, a competitor to video-streaming company Netflix (NFLX).
Of course, two-day shipping is expensive and requires dozens of warehouses and lots of sorting equipment. Amazon's businesses use more than 233 million square feet – or more than 4,000 football fields – of warehouse space.
Though this is a huge competitive advantage over smaller retailers – who simply can't match the scale – the upfront investment is massive. In the last five years, Amazon has spent more than $37 billion on property and equipment (including more than $11 billion in 2018 alone), adding more than 148 million square feet of warehouse space. It has also hired more than 500,000 employees since 2013 – more than the entire population of Atlanta.
All of these warehouses not only cost a lot to build, but they're expensive to operate as well. Last year, Amazon reported $34 billion of "fulfillment" expenses.
Amazon expanded its warehouse capacity well ahead of its current needs, anticipating strong future growth. This depressed margins substantially for the better part of the past decade, because new warehouses take time to become productive. Initially, they only operate at a small fraction of their capacity… But they still demand a minimum level of staffing and resources, so expenses are high relative to revenues. But the rapid growth of Amazon's business means that the warehouses process more volume and become more efficient.
Amazon has blanketed the country (and, increasingly, the world) by building nearly 200 fulfillment centers since 2014, so it doesn't need to build as many new ones. For example, it built 62 in 2017, but only 25 in 2018. As a result, both the upfront and ongoing costs associated with new fulfillment centers are dropping rapidly, which should boost Amazon's operating margins by more than a full percentage point. That might not sound like much, but with nearly $200 billion in retail sales, that's roughly $2 billion of extra operating earnings!
More Than Just a Retail Juggernaut
In addition to being one of the world's largest retailers, Amazon is also the world's largest cloud-computing company. Amazon Web Services ("AWS") helps other companies run their businesses in the cloud. They can use Amazon's equipment and software instead of having to buy their own… And more and more companies are moving to the cloud because it's cheaper, faster, and more secure than the alternative.
It's a rapidly growing, high-margin business with an incredible growth runway. While businesses spent nearly $3.7 trillion on information technology last year, less than $180 billion of that went toward cloud computing. The cloud is still in the early adoption stage of the S-Curve as well, as you can see in this chart…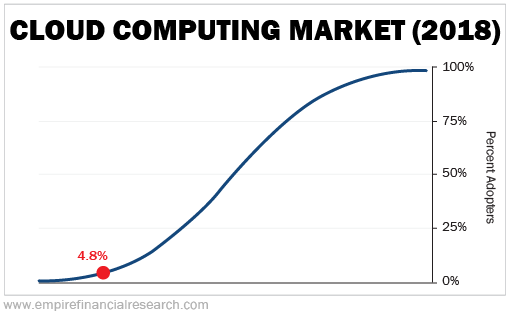 The Advertising Opportunity
Amazon is also a dominant search engine. When we look for things online, we rely on Google, which has about a 90% market share of web searches in most countries. But according to a recent report, roughly 54% of product searches begin on Amazon. So, Google might dominate searches in general, but when we shop, we use Amazon.
This provides Amazon with two big advantages. First, the company gets a first crack at making the sale. Second, it can sell advertising to reach consumers at the perfect point, just as they're about to buy. In 2018, Google generated more than $116 billion in advertising revenues. Facebook was No. 2, with nearly $56 billion. Amazon was a distant third with only $10 billion in advertising revenues, but the company is only just starting to monetize this opportunity, so it's growing much faster…
Great Leadership
Warren Buffett is famous for identifying great businesses and management teams. In 2017, he called Amazon founder Jeff Bezos "the most remarkable businessperson of our age." He went on to say, "I've never seen a guy succeed in two businesses almost simultaneously that are really quite divergent in terms of customers and all the operations. I can't think of another example like it," referring to Amazon's retail and cloud businesses.
But he didn't stop there. Buffett praised Bezos again at the 2018 Berkshire Hathaway shareholder meeting…
I had a very, very, very high opinion of Jeff's ability when I first met him, and I underestimated him. I've watched Amazon from the start. I think what Jeff Bezos has done is something close to a miracle.
Clearly, the world's greatest investor thinks the company is in good hands.
How Do You Value Amazon?
Many investors have found Amazon difficult to value because the company, from the day it started through today, has been primarily focused on growth, not profits. Because of these de minimis profits, it's always traded at a high multiple of reported earnings.
At first glance, Amazon seems to only make money from AWS, plus a small but highly profitable advertising business. Meanwhile, the retail side of the business sports thin margins.
In reality, Amazon's huge upfront expenses are hiding a good retail business and an excellent advertising one. This is a great thing: The company is investing now to gain as many customers as possible, forgoing today's profits to make robust profits in the future.
To see how profitable Amazon's retail business might be, let's examine its business prior to 2006, when it was essentially 100% retail. In those days, it had similar gross and operating margins as Walmart (WMT) and Target (TGT) – its two largest competitors – as you can see in this chart…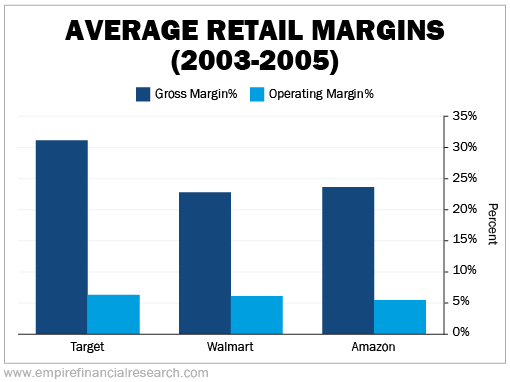 Now that Amazon's huge investments in growth are slowing – not only building fulfillment centers, but also research and development, international growth, and content spending for Amazon Prime Instant Video – the company's operating margin should double over the next three years. (At $26 billion, Amazon spends more on R&D than any company in the world, equal to tech giants Apple and Intel combined.)
Now, combine this with Amazon's incredible growth. Revenue growth has exceeded 20% in 13 out of the last 14 years. Last year, it rose 31%, while operating income jumped more than 200%. This is just the beginning of profit growth following an S-curve as well.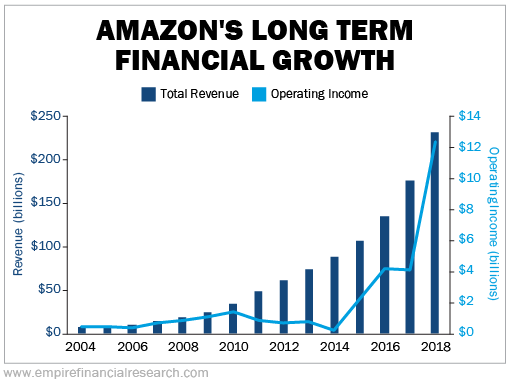 If Amazon's revenues grow at 20% annually over the next three years (a super-conservative assumption), they will reach $411 billion by 2021. Assuming AWS margins remain steady, advertising margins match Google's, and retail margins return to pre-investment levels, Amazon's operating profits will grow nearly 70% per year over the next three years.
If so, Amazon's operating income will top $59 billion and earnings per share will approach $90 in 2021 – up nearly five times from today's levels.
With shares around $1,800 today and $90 in potential earnings per share in 2021, that's only a 20 times future price-to-earnings multiple – an absurdly low price for a company like this.
Buy Amazon (Nasdaq: AMZN) up to $2,000 a share.