Here's a long debate about Tesla's Europe market share between my analyst Kevin DeCamp, a Tesla bull, and a friend who's bearish. Enjoy!
1) In response to my analyst Kevin DeCamp sharing this Barron's article about the debut of the Model Y in Europe, a skeptical friend responded:
Unable to sell enough cars inside China to fill up the capacity of Tesla's sole Chinese factory, exports have now begun from the over-capacity Chinese factory to Europe. As of today (August 25), in the month of August, Tesla sold 551 Model Ys in the three countries that report daily sales data (Norway, Spain and the Netherlands): https://eu-evs.com/
In addition, Tesla sold 631 Model 3s during the same time period, in the same European geographies. Will the Model Y cannibalize the Model 3?
Obviously that number will be much higher when all European countries report full August monthly sales numbers, but here is the broader context: for the first six months of 2021, a total of more than one million (1,032,697) EVs were sold in Europe.
In that context, what would constitute a good Tesla Model Y sales result in Europe? Sales in the second half of the year are typically higher in Europe, especially among EVs where the December month alone tends to be outsized. I imagine 1.5 million EV units sold in Europe in the second half -- with the only question mark being the component shortages. 
How many Model Y units do you think Tesla will sell in Europe in the second half of 2021? Possibly 50,000 units? That would be 3% market share of EVs.
For reference, the Model 3 had a 7% European EV market share for the first half of 2021:
| Europe | Tesla Model 3 | Total EV sales | Tesla M3 % |
| --- | --- | --- | --- |
| Jan 2021 | 1507 | 112776 | 1% |
| Feb 2021 | 5506 | 115827 | 5% |
| Mar 2021 | 24184 | 227969 | 11% |
| Apr 2021 | 1247 | 159891 | 1% |
| May 2021 | 8858 | 178290 | 5% |
| Jun 2021 | 26178 | 237944 | 11% |
| 2021 YTD | 67480 | 1032697 | 7% |
Interestingly, the Model 3 has had the identical EV market share pattern in Europe in each of the first two quarters of 2021: 1% in the first month, 5% in the second and 11% in the third. The cumulative average is 7%.
2) Kevin responded:
They will sell as many as they can possibly get to the continent and then it looks like the Berlin factory may have a chance of starting production in Q4.
By all accounts, margins are materially higher on Teslas made in China vs. those made in Fremont, CA. Those margins will only increase once the Berlin factory scales up and Europeans can buy the best EV in the world for an even lower price due to no import duties.
Here are Tesla quarterly deliveries for Norway, Spain, and the Netherlands (Q3 tracking highest so far):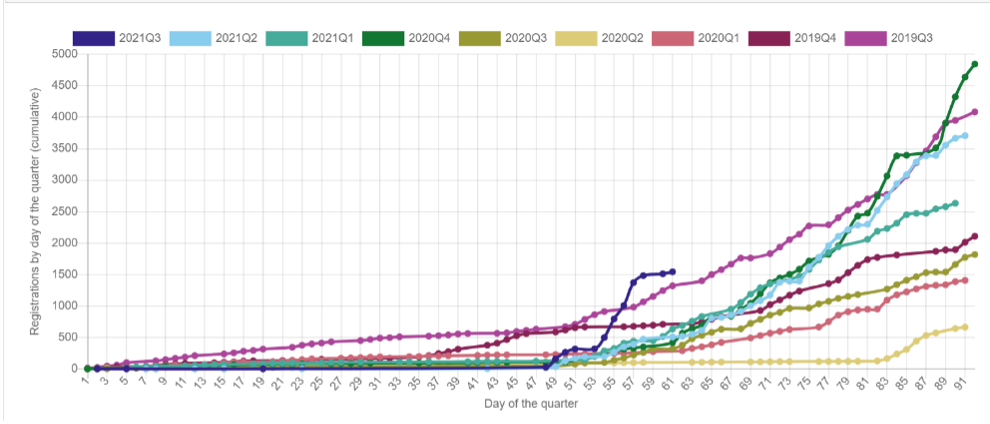 3) My friend:
I agree that production in China is cheaper than production in Silicon Valley. Somehow, I don't think that's a surprise. If that weren't the case, then manufacturing would be shifting from China to Silicon Valley, and I can't find any meaningful examples -- or any examples at all -- where that is happening.
If I read your sales graph accurately, we are talking about quarter-to-date unit sales in those European countries that is around 200 units more than it was in Q3 of 2018.
Let's pause for a moment and ponder that number: Tesla is selling around 200 more cars in those countries so far this quarter than they did in the equivalent quarter three years ago.
Seriously, is that a joke? The increase in Tesla's stock market valuation associated with selling 200 more cars than three years ago should be… a few thousand dollars? Certainly not in the hundreds of billions of dollars.
It would appear that this tiny sales increase in these geographies support the view that Tesla's market cap has increased by several decimal points more than what was deserved, over the last three years. 
Take Norway, for example -- Tesla's formerly brightest shining global star. When the Model 3 debuted in Norway in early 2019, it hit its peak in the month of March 2020 with 5,318 units sold. That ended up being around a third of the year's 15,686 units sold in Norway in all of 2020.
Now, in August 2021, with barely a full day left to go, the Model Y in its debut month stands at around 1,100 units sold. By the time tomorrow is done, perhaps it'll be 1,300 – or almost exactly 10% of the expected 13,000 EVs sold in Norway in August. That's 10% market share among EVs. 
Perhaps Tesla can do a little better in September -- it usually does, so why not? If history is any guide, that would be Tesla's peak market share for the Model Y in that geography, for that particular product cycle -- which looks to be much lower than the Model 3 was in 2019. 
And what comes after the Model Y in Norway, and when? The Cybertruck, if and when it ever makes it into volume production, isn't going to sell in material quantities in Europe.
For the first half of 2021 as a whole, Tesla's unit EV market share in Europe was 7%. I expect Q3 to be around the same -- and then a decline in Q4 as the EV quotas for all the other automakers need to be filled by December 31.
The Model Y looks to have a debut in Europe that's less impressive than the Model 3 was, back in March 2019.
In Sweden, the Model Y captured 152 units in August, or 3% of the BEV sales in Sweden in August. It was the 10th best-selling BEV in the month.
In Norway, the Model Y captured 1,307 units in August, or 10% of the BEV sales.
In Norway + Spain + Netherlands combined, the Model Y captured 1,507 units in August.
Clearly countries such as Spain and Netherlands will be higher in September than in August -- a mere 200 units combined in August. That's most certainly a supply constraint, not a demand issue.
I imagine Norway and Sweden could be up in September over August too.
Why is this?
The Model 3 entered the European EV market in a totally different competitive landscape, as there were very few direct competitors in March 2019.
In contrast, the Model Y now entered the European EV market months behind many competitors such as VW ID4, Volvo XC40, Skoda Enyaq, Audi Q4, etc. While each of those competitors may lag behind the Model Y's market share, collectively they are getting close to 90% of the market with Tesla lucky to approach 10% even in its debut month.
The European EV market is growing at well over 100% per year. Tesla may grow a little bit, maybe a few percent, but nowhere near as fast as the European EV market overall. That's why it will continue to lose market share there.
4) Kevin:
With the Y, Tesla is entering a completely new segment - more than doubling the TAM, so I think you will be proven wrong pretty soon…
It's most certainly a supply issue as this chart of Norway deliveries shows (or did demand for Tesla's suddenly spike!!?) (source):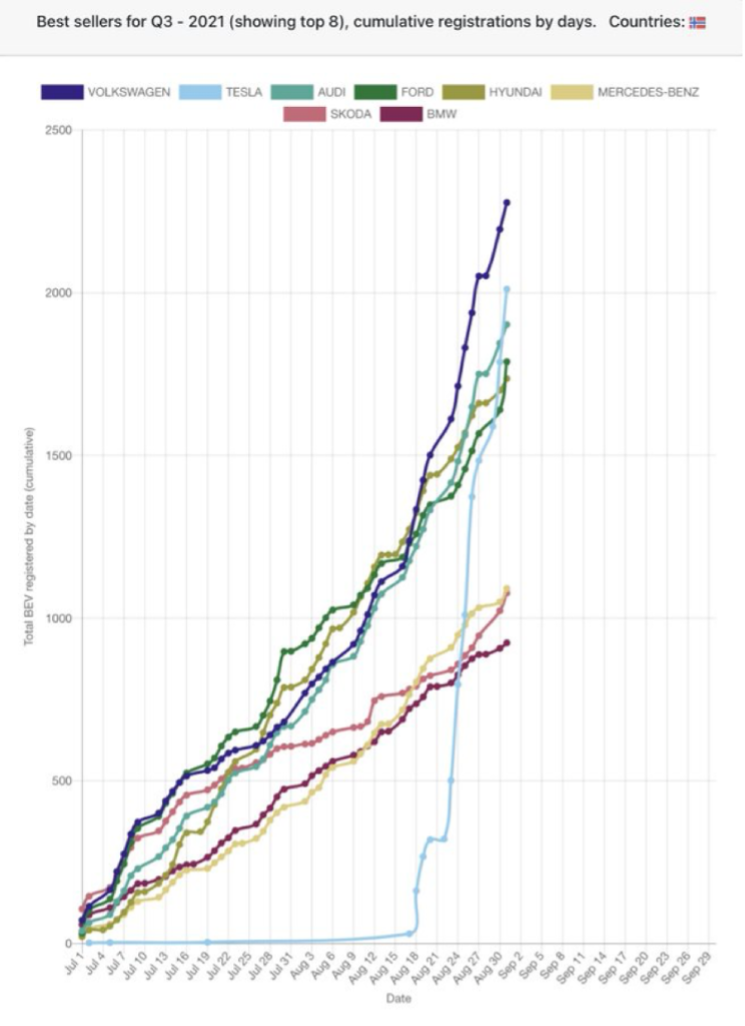 5) My friend:
It should of course not be a surprise that the most recent vehicle to enter the equation will have the steepest curve because it starts at zero and has a pre-sales order book.
VW, Skoda and Audi are the same company. Their most popular BEV variants are even the same car under the skin, almost all of them made on the same assembly line -- in Zwickau, Germany:
-- VW ID3
-- VW ID4
-- Skoda Enyaq
-- Audi Q4 eTron
In a way, those should be added into the same line/graph. 
6) Kevin responded a few weeks later with updated Norway EV deliveries graph:
Demand cliff: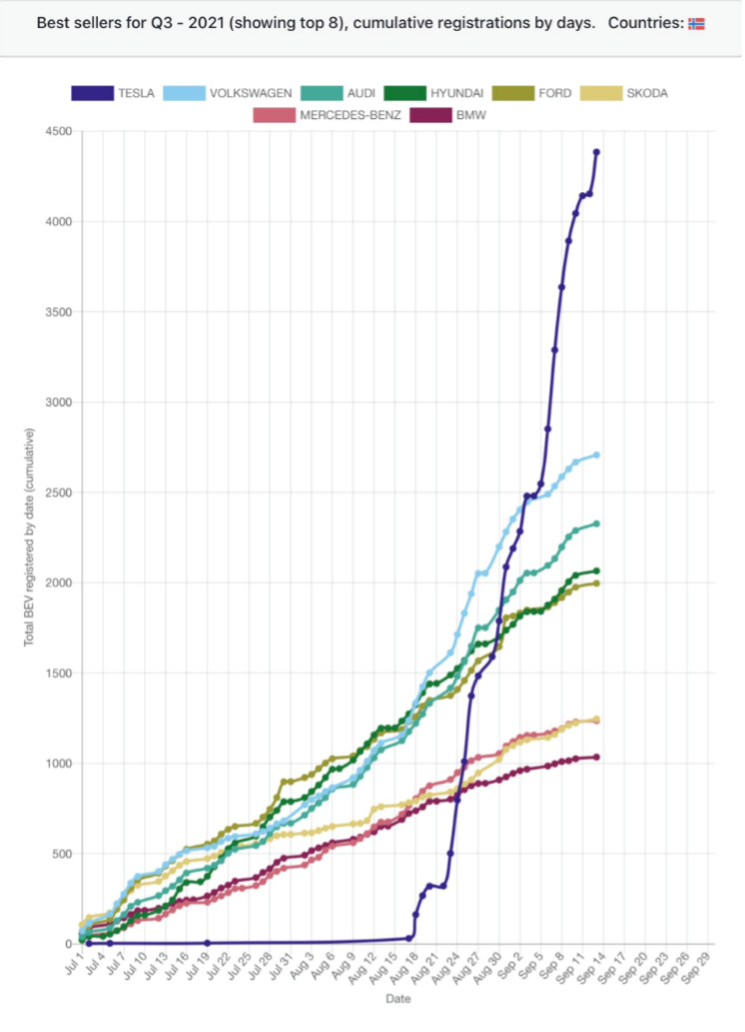 7) My friend:
Let's be clear that this is the debut month for the Model Y, so this simply reflects the pent-up demand that's been accumulating for a couple of years. Of course a lot of units will be delivered when the first boat docks in Norway.
Let's put this in context, however: The market share in Norway is 18% this quarter thus far. It will go up from here. But Tesla's share of the global automotive market cap is nearly 50%. So if in its best market share country in the world, in the peak month since March 2019, Tesla can't even get near its share of the automotive market cap…
Year to date, Tesla has sold 7,395 units of the Model 3 in Norway. The EV market overall? 81,991. So the Model 3 has 9% market share in Norway in 2021.
The Model Y just started around 30 days ago, so its market share in the peak initial delivery month is not very relevant, but with 3,296 delivered thus far it's got 4% of Norway's EV sales volume year to date.
Add 9% and 4% together and it's 13%. Clearly that will go up as the Model Y continues to deliver its first pent-up batch for however much more this year. Maybe it will get to 20% total or something like that.
In 2019, Tesla sold 15,863 units of the Model 3 in Norway. Will Tesla reach that 15,863 Model 3 number this year, with the Model 3 plus Y combined? I suppose it will roughly match that number.
Then add the fact that in 2019 Tesla also had non-zero Model S and X sales in Norway -- 3,100 units in total. So Tesla really sold 19,000 cars in Norway in 2019, some of whom the more expensive X and S models. 
Here's the thing: Two years later, it doesn't look like Tesla will have a better year in Norway in 2021 than it did in 2019. And this is a growth company? This is, over a two-year period, flat to falling sales. 
Just to illustrate how this relates to Tesla's valuation. In 2019, Tesla sold around 19,000 cars in Norway, around 16,000 of whom were Model 3.
Tesla is priced for, at the very least, 50% annual growth. That's the company's guidance, and Tesla as the ultimate high-multiple stock is very much a "beat and raise" so the market really ought to expect more than 50% growth in order to justify the valuation.
Anyway, if Tesla had grown 50% (or slightly more) in Norway in 2020 and then again in 2021, the sales in Norway would have been like this:
2019: 19,000 units
2020: Around 30,000 units
2021: Around 45,000 units
Yet, now we are sitting here talking about Tesla selling perhaps 15,000 to 20,000 units at best in Norway in 2021. This is under half, perhaps a third, of the volume for which this company is priced.
Yes, of course, Norway is only one geography and not all geographies can be expected to perform at the corporate average. Still, as long as sales in Norway in 2021 are below 45,000 units, Norway cannot be used as an argument in favor of Tesla's sales in Norway supporting its valuation multiple. It has to be part of an excuse, not the other way around.
8) Kevin:
Norway car sales are less than 200,000 a year, but still obviously relevant to the EV discussion. I engaged this discussion just to get the point across that the biggest bear talking point – Tesla's collapsing market share in Europe – is overstated. I believe Model Y intro and Giga Berlin opening will prove my point.
Tesla sold just under 500,000 cars last year and latest estimates are 859,000 this year - well north of 50% growth, even before two new factories make a meaningful contribution.
Here's one guy's Tesla delivery estimate for Q3 2021: https://twitter.com/troyteslike/status/1437547821259964421?s=21
9) My friend:
Clearly Austin and Berlin will be adding to the 2022 growth above 859,000 units sold in 2021. 50% growth in 2022 above 859,000 in 2021 would imply growth of 430,000 units sold in 2022, for a total of around 1.3 million units sold in 2022. I imagine the market would give Tesla some slack for falling short of that in 2022 given an implied 72% growth rate in 2021. Basically I think the market would, all other things equal, be willing to accept a 1.15 million number for 2022 -- assuming there are no other issues.
Ultimately, what will matter for Tesla's valuation is what this will mean for EV market share when the market is going increasingly EV-only in Europe, USA/Canada and China -- which combined are very far from the entire global market.
As we get closer to that 100% EV market share in Europe, USA/Canada and China, what will Tesla's "terminal" market share look like? Will it be 5%? Or only 3%? The problem here is that Tesla has nearly 50% of the industry market cap. If in the end it can only get to, say, 5% market share, why wouldn't the stock fall by 90%? 
Stated another way, Tesla may grow 72% this year and close to 50% in 2022, but if the EV market is growing over 100% each year, then Tesla just continues to lose market share and may, in the end, only end up with a very small global market share, perhaps well under 5%.
In the long run, that doesn't justify nearly 50% of the industry's combined market cap. The downside to the stock, over the long run, is therefore at least 90%, even if things go swimmingly on plan for Tesla.
10) Kevin:
90% downside sounds like an easy short 😉
In all seriousness, I think the high valuation is the only bear thesis left.
The rest of the industry is shrinking overall and growing in a very small segment (EVs) from a very small base (ZERO) where they haven't even proven they can be profitable nor make a viable product (see the GM Bolt debacle).
Tesla will grow around ~70% this year and doesn't have any legacy baggage. Not to mention Tesla's software, energy and AI optionality. Only time will tell who's right on valuation, but I think the market is reflecting what's obvious...